Salveez is only available in New Zealand

Please note the newer stock is made

with
a 100% organic oil. 
Salveez is still packed full

of the same herbal goodness preserved in beeswax.
FREE SHIPPING TO URBAN AREAS
ADD $5 FOR ALL RD DELIVERIES NATIONWIDE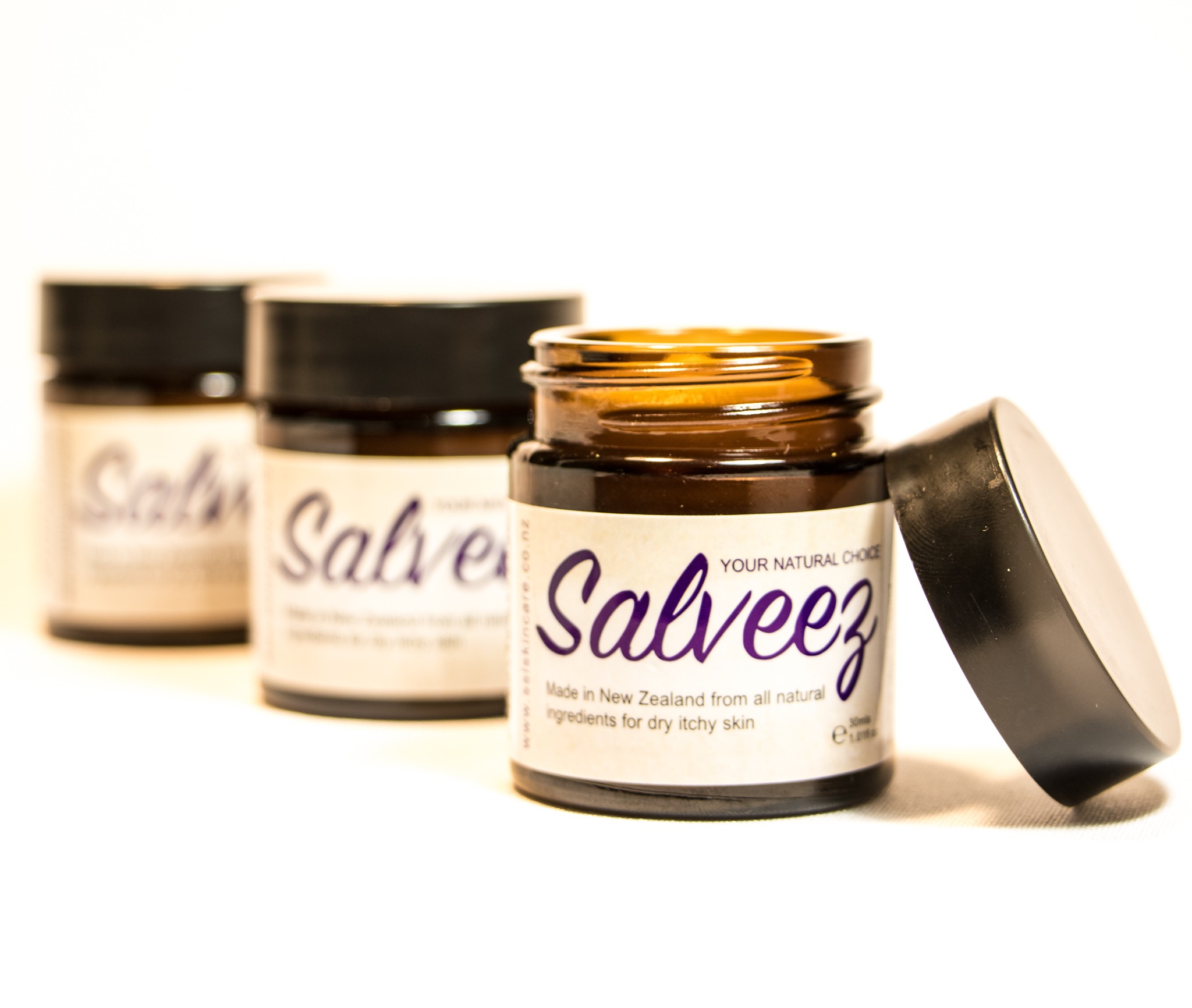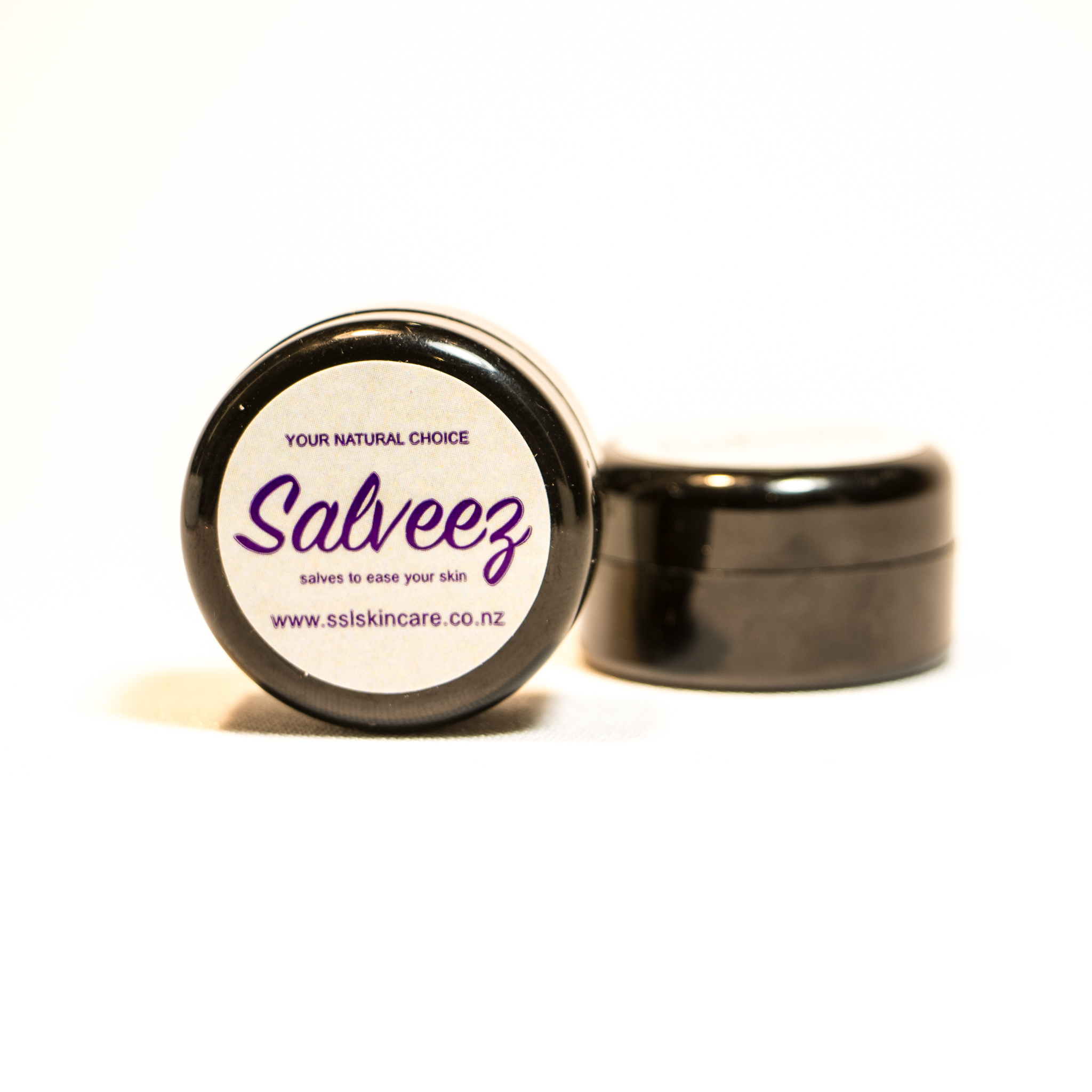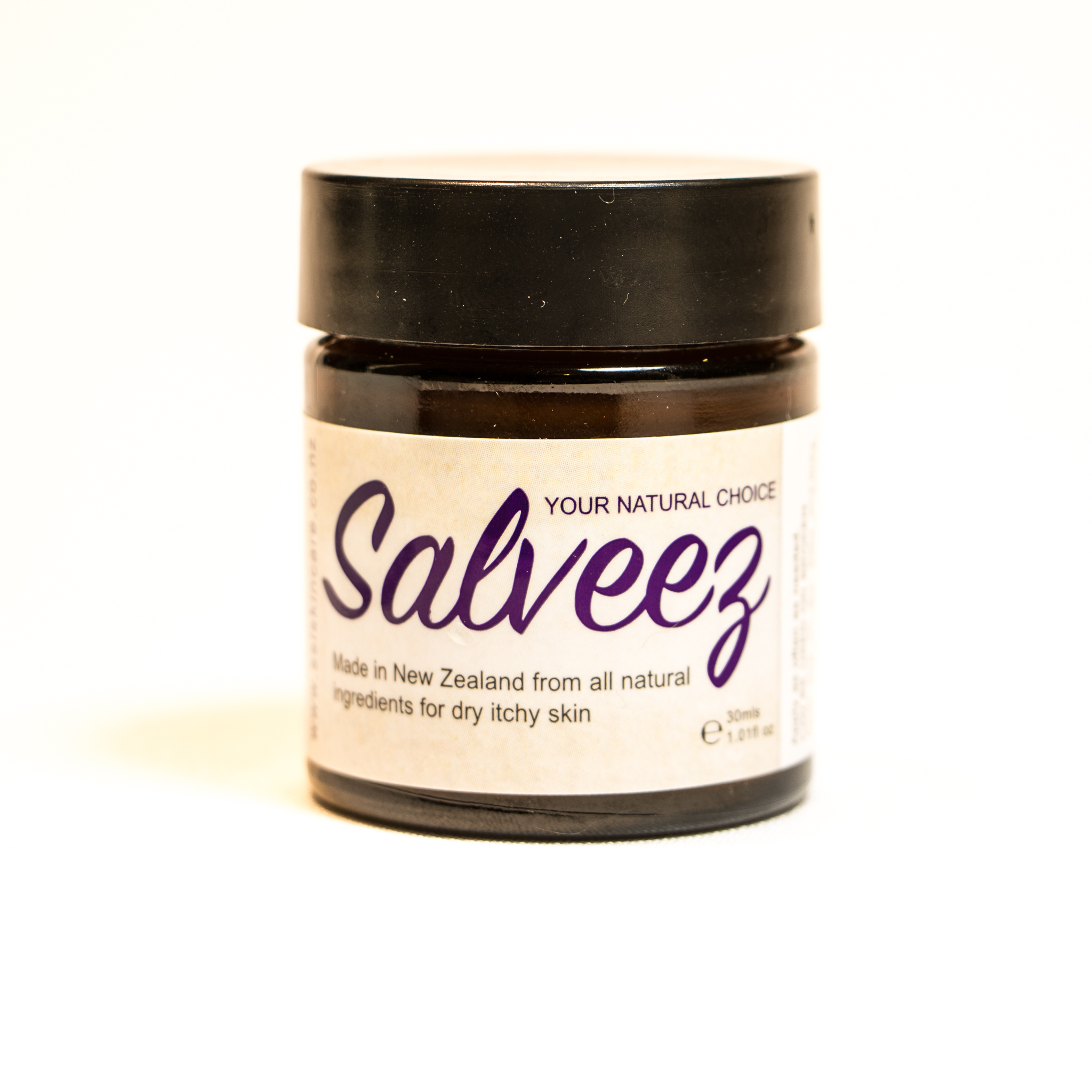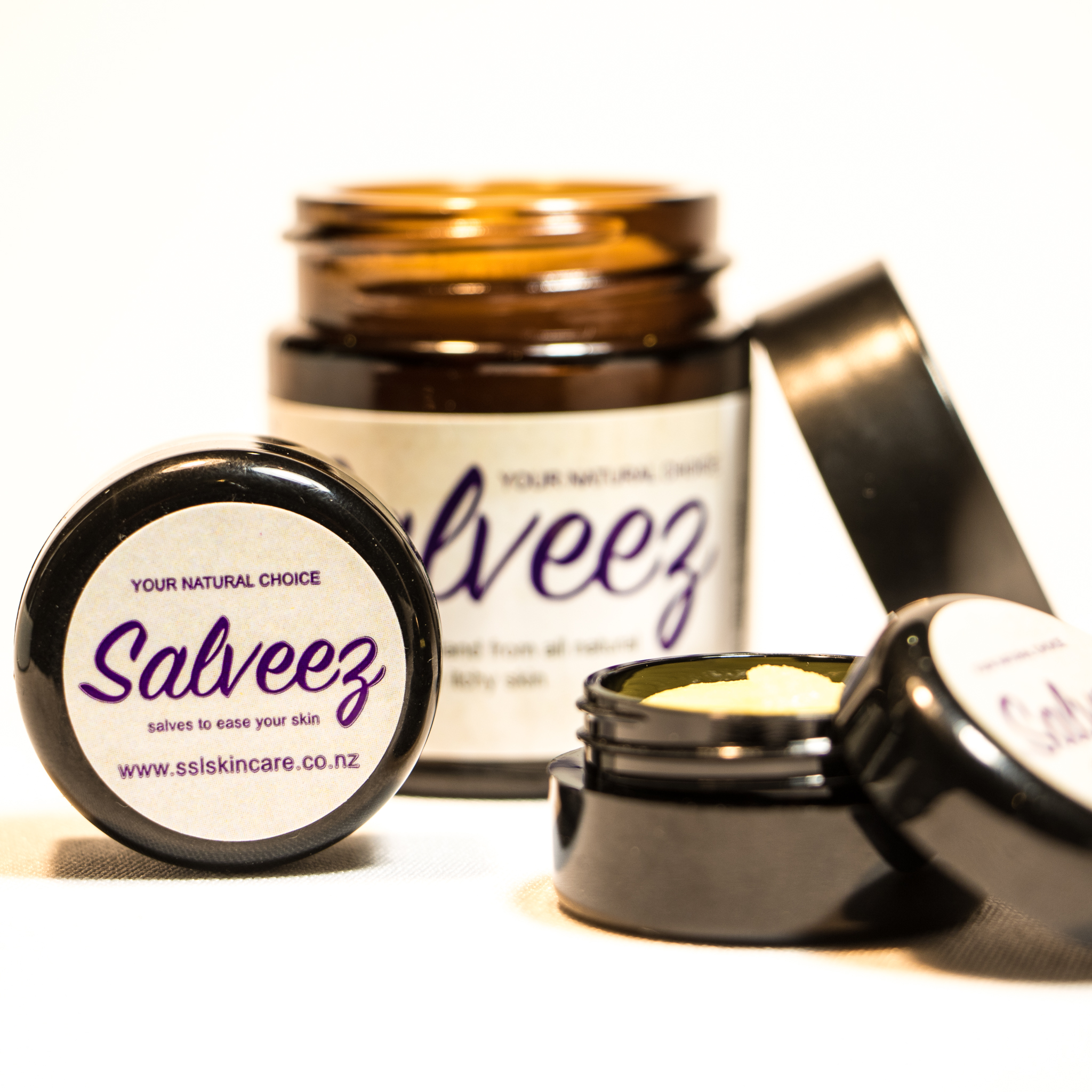 Soothfast Skincare was started to help people with dry,flaky and itchy skin to have a natural choice. Our flagship product Salveez provides effective natural relief from dry, itchy skin ailments. Used on everyone from babies to adults.  For our furry friends check out the sister company Eezapet which offers a pet care range.
Soothfast is an old English word for truth (hence a soothsayer told the truth) and we pride ourselves on doing ethical business and making decisions that take our environment into consideration. Every decision is made with sustainability in mind.
Soothfast Skincare's founder was driven to share the success of her product made with pure New Zealand beeswax and active herbals after seeing how it resolved her daughter's eczema.  Demand from family and friends lead to the inspiration to forge ahead and create the business.
Salveez is a healing balm that soothes, heals and relieves dry irritated skin, giving users a life free from itching and flaking. Salveez has been found to have a broad range of applications, from preventing and healing wind-chapped or sunburnt lips to soothing grazes and supporting healing.
Salveez

FAQs 
How to use: if you are currently using steroid treatments prescribed by your doctor please consult with your health professional. 
We recommend using Salveez at least twice a day on the affected area.  It works best when used as often as needed and is safe to use on broken skin. Salveez acts as a barrier relieving the itch and allowing the skin to heal.  Patch test first if you are an allergy sufferer.
 Can I use Salveez on broken skin?  Yes you can!  Salveez is safe to use on broken skin, cuts, grazes and open wounds.  Salveez works as a balm, protecting the irritated area, relieving the itch and thereby allowing the skin time to heal.

Can I use Salveez on my baby's face?  Yes, Salveez is safe to use on external areas of the body for babies, young children and adults.

How often do I need to use Salveez?  You should apply Salveez at least twice daily, morning and night, and in addition whenever itchy.  This is a natural product and can be used as often as needed.

How long will Salveez last?  Salveez is preserved through beeswax, without water, so will not 'go off".

Can I use this product if I am allergic to bees?  Our product contains BEESWAX, do not use if you are allergic to bee products.  Allergies to bee venom may not necessarily indicate an allergy to beeswax.  Please check before use.  Always patch test a product before use.

 After using Salveez, my rash has gone redder?  This can happen at first, especially when you have been using other products, particularly hydrocortisone based ones.  If the steroids were prescribed by your doctor please check with your doctor before reducing the use of them.  We recommend slowly decreasing the use of your current product over two to three days and increasing the use of Salveez.  You should notice the redness disappearing.  If for any reason it worsens, please consult a health practitioner.

Why is Salveez a thicker cream than a moisturiser?  Salveez is emulsified using beeswax. For dry skin you need a barrier cream that will protect the broken skin allowing it to heal. By putting Salveez on the area you are creating the barrier needed whilst sesame oil and the herbs work on healing the skin.

How much Salveez do I need to use?  Salveez is, as the name suggests, a salve which means that it should be applied in a thicker layer than say a moisturising lotion. For severe rashes, it should be smeared over to seal the area, calming and allowing healing to occur.

Do you use organic ingredients?  Salveez is always made with 100% natural ingredients and subject to availability it is made with 35% certified organic ingredients. It is our aim to increase this percentage. We are always trying to source organic ingredients over non-organic.

How should I store my Salveez?  Dark glass helps by not letting light into the product. Store in a cool place. And always screw the lid back on.  Salveez has been tested under laboratory conditions and is stable.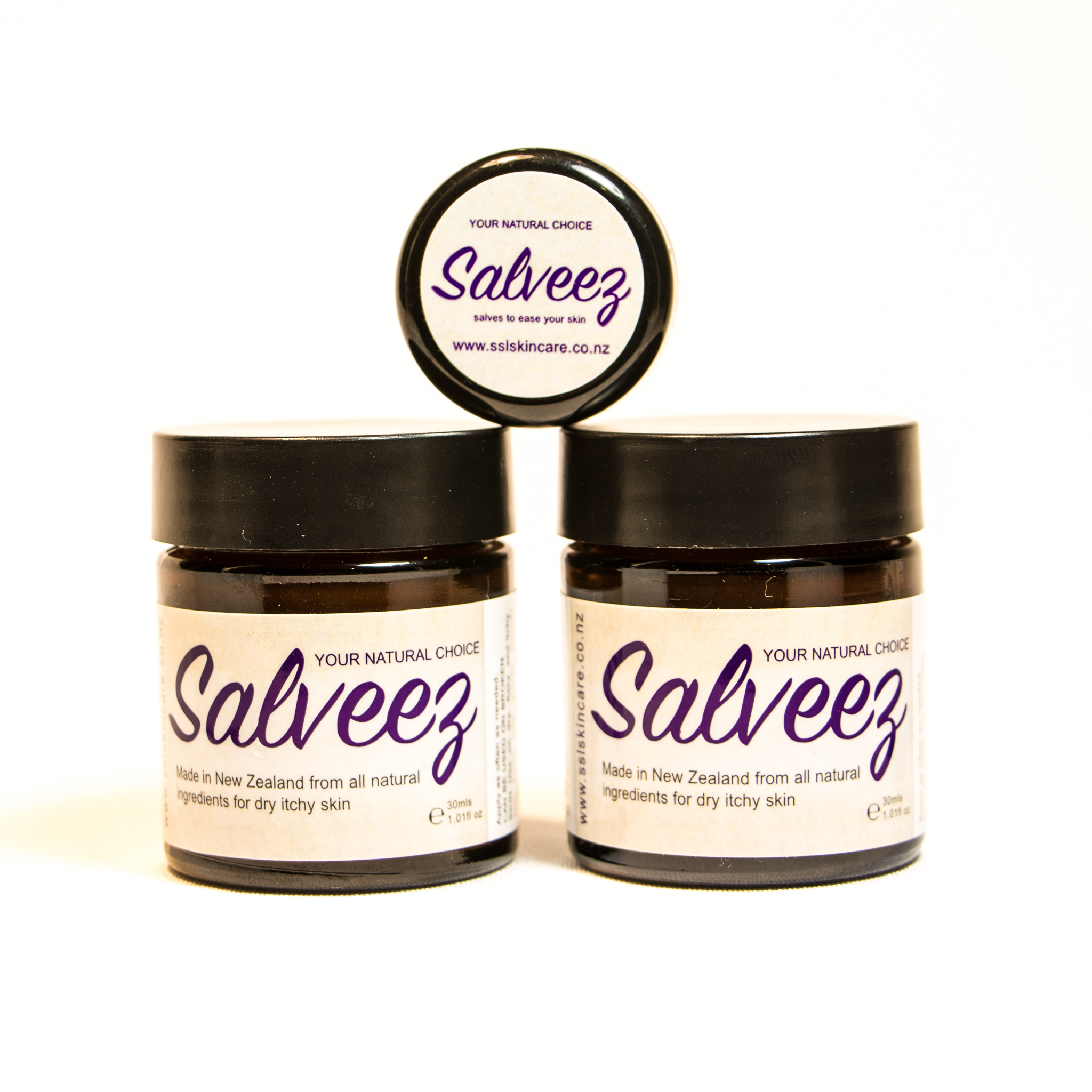 Our all natural formulation for the effective relief of dry and sensitive skin.  Salveez soothes, heals and relieves dry irritated skin and offers a life free from itching and flaking. Our salve consists of herbs preserved in sesame oil and beeswax sourced from NZ.
Salveez relieves the itch associated with:
dry, sensitive skin

burns

baby's bottoms

cuts, grazes

wounds

insect bites

sunburn

sensitive skin

dry flaky skin

dry lips
Apply as often as needed, we recommend at least twice a day, or more often depending on the severity of your condition.
Suitable for use on babies to adults. Salveez has no nasty chemicals or added preservatives and is completely natural.  Relax in the knowledge that Salveez is safe to use on broken skin.
Ingredients: Beeswax, sesame oil, angelica, cinnamon, figwort, peony and rhubarb.  The careful blend of these ingredients in our own process combines a synergy of the active ingredients with the soothing, moisturising nature of beeswax and oil which allow Salveez to work its magic rapidly.
Allergy information: contains bee products (wax) and Sesame (oil). Please patch test before using if you are an allergy sufferer of either of these.
Made in New Zealand with 100% natural ingredients and aroha (love).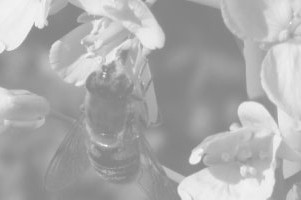 Payments
Payments should be deposited to Soothfast Skincare account via internet banking after placing order by email to sslskincare@gmail.com. In all cases clients deposit the purchase price into Soothfast Skincare's account prior to shipment of goods to the address provided.
Shipping
Shipping is included in the purchase price for all order to urban areas in NZ, for RD deliveries please include $5 extra in your payment.
Delivery
We ship our goods via courier. If your goods do not arrive in good condition please contact us immediately via our website using the contact form so that we may arrange a return and replacement.  If you provide us with an incorrect address we cannot be held responsible for the goods not being delivered. If your goods do not arrive within one week of us sending your confirmation email please advise us via email to sslskincare@gmail.com.
International Shipping
is not available.  We only sell within New Zealand.
Returns 
Soothfast Skincare makes every effort to ensure the quality of our products. if you are not satisfied with our product please email within seven days of delivery. We cannot refund postage and packaging costs but will refund the price paid for the pottles in full.
Personal Information
Your personal information is recorded purely for the means of processing your transaction. We record your information on our database for future purchases, sending out samples or surveys. You can contact us at anytime to have your personal details removed. Under no circumstances will Soothfast Skincare sell or distribute your personal information to any other third parties.
Website Content
Soothfast Skincare Ltd aims to take reasonable and appropriate care of the content of our website, however, Soothfast Skincare does not accept liability for any inaccuracies of content on this website.
Copyright
All content on this site, including text, images, etc. are the property of Soothfast Skincare and are protected by copyright law. No part or portion of this site may be copied, sold or used in any manner without prior written consent of Soothfast Skincare.
Disclaimer
Soothfast Skincare makes no claims of curing ailments. Soothfast Skincare is not a health practitioner. Soothfast Skincare does not make medical claims for any of our products. We do not perform independent testing on the verification of the product claims. Any claims of our products are provided in good faith. Soothfast Skincare will not accept responsibility for injury or illness that is caused by customers failing to take proper medical advice. Any attempt to treat a medical or health condition should always come under the supervision of a qualified health practitioner. Users of Soothfast Skincare products are responsible for avoiding products that include ingredients that they may be; or have unknowingly become intolerant, sensitive or react to.
Soothfast Skincare takes great care in the manufacture of our product, however as with all natural products there may be variations in consistency and smell from pottle to pottle and over time. This does not diminish the product's performance.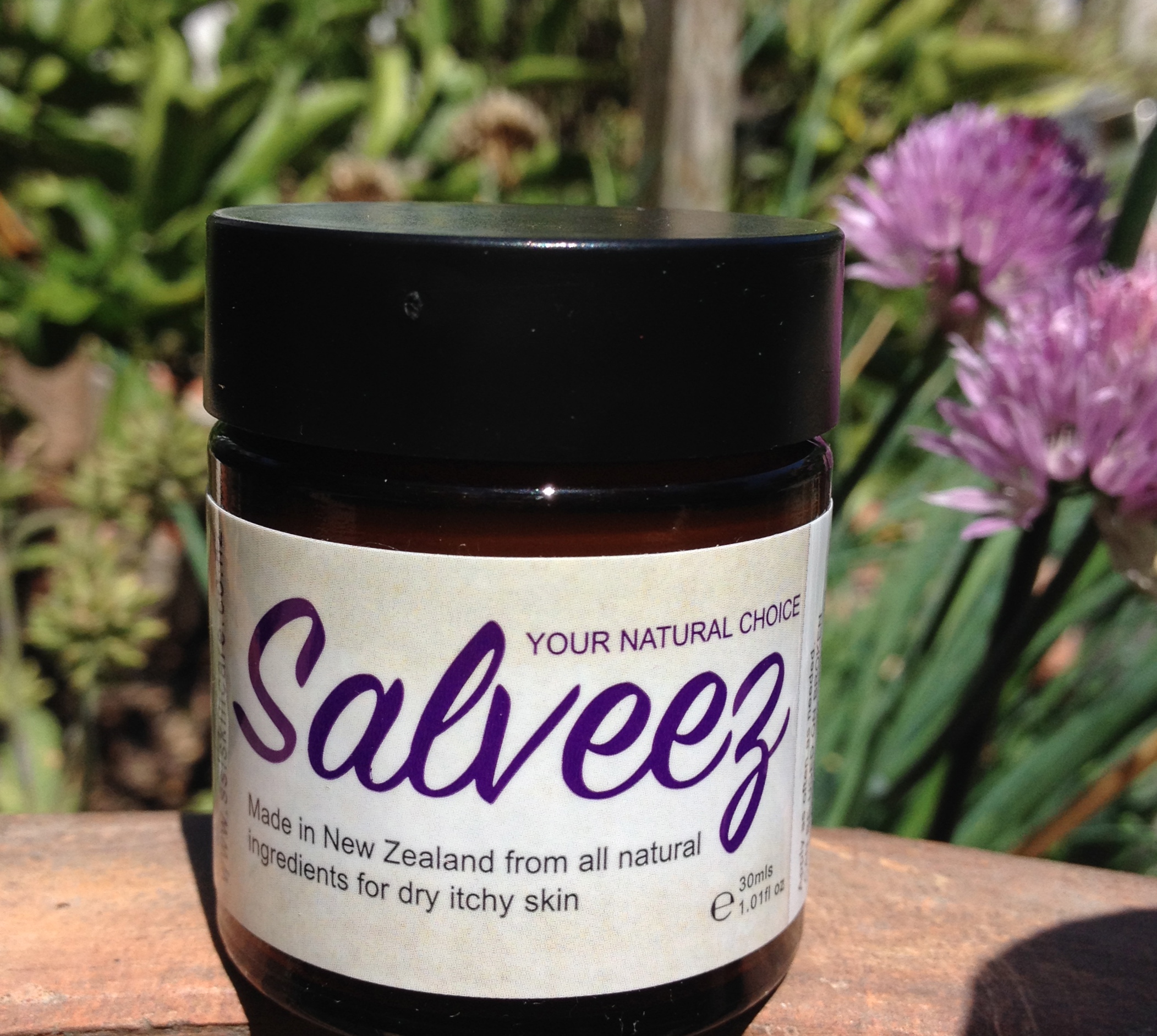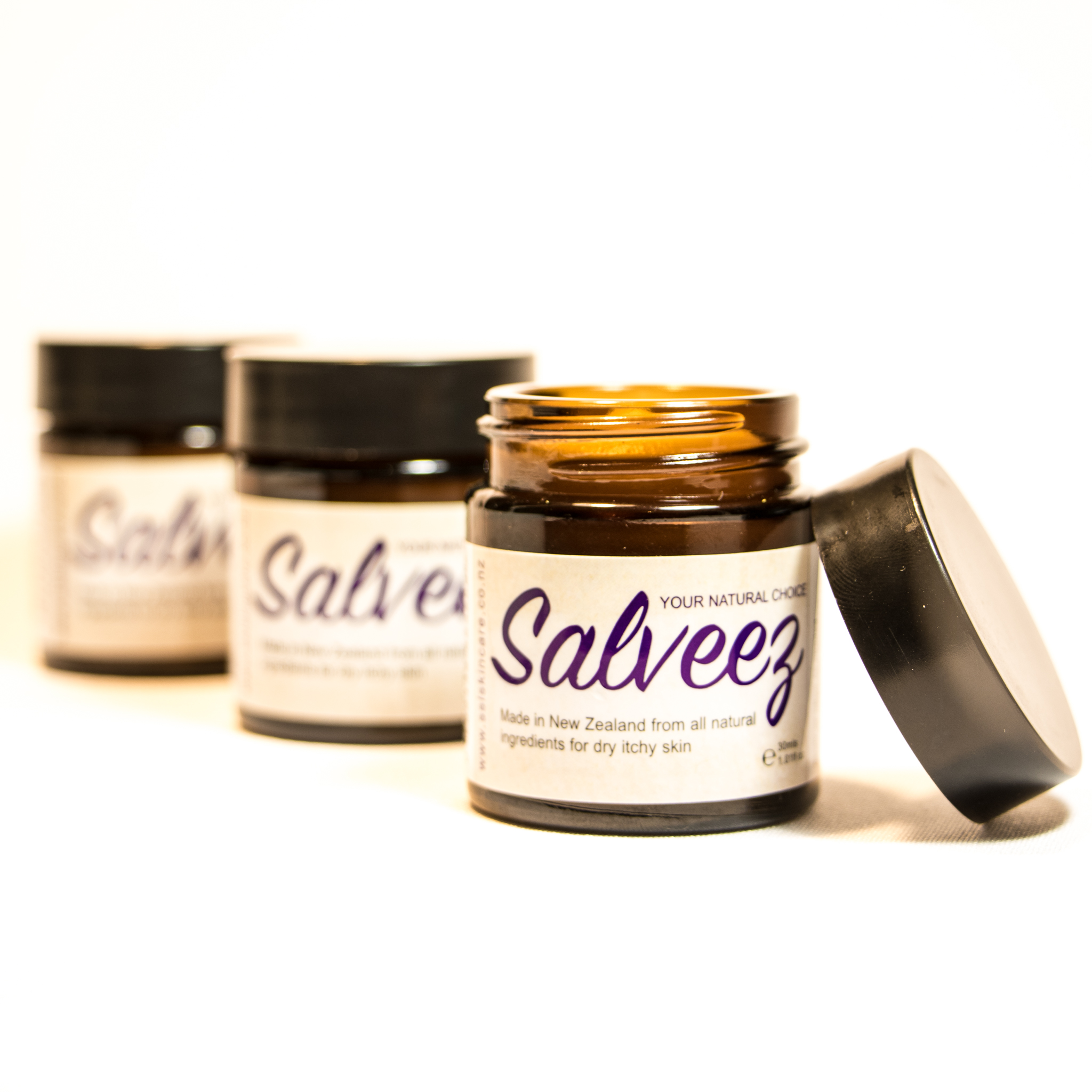 I have used your product and must say I am very impressed. I suffer (sometimes very badly) and find in particular that using some soaps really affect the skin on my fingers which blister and become very red and angry.  I found that the ointment really settled it down very quickly and amazingly well. I have all the doctors hydrocortisone creams etc which just don't work! Keep up the great work!
Karen Brooks, Christchurch
Salveez is awesome. After trying a cream from the pharmacy that wasn't working we brought Salveez knowing it was all natural to try on our new baby girl for her nappy rash.  Thank you Salveez
Melissa Price, Wellington 
Just thought I'd give you an update on my testpot. Have used it on my 2 yr old and my partner's split fingers. Both with positive results. Thank you so much.
Karla, Central Hawkes Bay
I have almost finished my first pot of Salveez and am hanging on to the last bits in case I get a bad itch, it takes the heat out really well. I guess I'll have to order again soon!
Kath McLaughlin, Gisborne
Recently suffered my worst breakout ever. Never have had such a bad break out. Over two weeks of using topical creams and no change. At witts end i thought iv got nothing to lose by ordering and trying the salveez cream. It arrived on Tuesday and have been using salveez cream after bathing my arms in pinetarsol and water and when ever my arms felt irritated or dry. All i can say is WOW it really works!! No more steroid creams for me. Thanks heaps for creating a product that ACTUALLY works 🙂
Lisa, Gore 
Salveez also works on the daily battle scars from the payground.  My eldest daughter got grazes and blisters on her hands from the monkey bars and I put the salveez cream on her hands and I noticed the next day that the blisters and grazes had nearly healed. THANK YOU SALVEEZ!!!
Nora Swann, Auckland 
Want to thank Salveez..I had a bike accident last Thursday and stubbed my face rather badly! I have been putting Salveez on and can't believe how quickly I have healed thank goodness for Salveez!
Nicki Burgess, Christchurch 
I often have allergic reactions that result in swollen, sore lips that go bright red and blister. I don't normally believe in natural remedies but I tried a tester at work after a reaction and was very impressed. The burning sensation stopped within three minutes and I had no other signs after that. I'm very impressed.
Renee Corlett, Wellington